Statewide, North Carolina has state-of-the-art facilities, world-class instructors, and the courses you need to get a great job and even kickstart a career in biopharma or contract research and diagnostic testing. You can find training programs at educational institutions across the state. People of all backgrounds can make the pivot and pursue fulfilling work in the life sciences.
Many entry-level biopharma jobs require a nine-week certificate program. Beyond this, there are many pathways, requiring additional education, to a rewarding and satisfying career in life sciences.
BioWork
If you're looking for an entry-level job in biopharma, taking the BioWork course is a great starting point. BioWork is an introductory course for anyone, from recent high school grads to experienced professionals seeking a career change. The 136-hour course teaches the foundational skills needed to be a process technician for a biotechnology, pharmaceutical, or chemical manufacturing company.
No science background is needed because it is designed for people wanting to start in a growing industry. Having this certification typically allows for a salary range of $48K to $50K.
North Carolina Life Sciences Apprenticeship Consortium
BioWork is being offered for free due to federal funding from the U.S. Economic Development Agency's Build Back Better Regional Challenge. A newly formed North Carolina Life Sciences Apprenticeship Consortium, which is comprised of local companies and nine local community colleges, will cover training costs for 220 students during 2023-2024. To learn more about the free training, contact Dasiané Branch.
The following two positions are being hired through the apprenticeship:
Manufacturing Technicians
Industrial Maintenance Mechanics
BioWork is offered at the following North Carolina community colleges:
Alamance Community College*
Caldwell Community College & Technical Institute*
Central Carolina Community College*
Craven Community College
Durham Technical Community College*
Johnston Community College*
Piedmont Community College
Pitt Community College*
Rowan-Cabarrus Community College
Vance-Granville Community College*
Wake Technical Community College*
Wilson Community College*
 *Community Colleges offering free BioWork training.
Certificate of Apprenticeship
Certificates of Apprenticeship typically require a high school diploma or GED. These positions offer hours of on-the-job training and experience and many also include a salary and the opportunity to take additional classes on the side.
Having this certificate typically allows for a salary range of $23K to $46K. Positions available with a certificate of apprenticeship include:
Technicians
Operators
HVAC specialists
Warehouse associates
Clinical Research Certificates
Schools in North Carolina that offer clinical
research-related certificates include:
Clinical research certificates are primarily needed for those pursuing a clinical research associate position. The Society of Clinical Research Associates (SOCRA) and the Association of Clinical Research Professionals (ACRP) are the two primary certification bodies.
Certification provided by SOCRA and ACRP varies based on education level, but options are available from high school degree/GED all the way up to a master's degree. In North Carolina, NCCU's Biomanufacturing Research Institute and Technology Enterprise (BRITE) is one of the leading clinical research training programs.
Continuing Education
Durham Tech's Biotechnology Lab Assistant course teaches students who already have an associate degree the skills to become trained lab assistants for biotechnology, pharmaceutical, and chemical companies.
Carolinas College of Health Sciences' Medical Laboratory Science Program is a 12-month course to prepare individuals who already have a Bachelor's degree for a career as a medical laboratory scientist.
UNC-Wilmington's online Certificate in Clinical Research Operations is for students with a Bachelor's degree who are entering the clinical research field or moving to a different area within the field.
North Carolina Central University's Clinical Research Sciences Certificate includes didactic course work and hands-on clinical rotations.
Durham Technical Community College's Clinical Trials Research Associate curriculum includes certificate programs in core competencies and data management.
Still looking for training?
You can use the NCBiotech map tool to easily find schools and training programs in your area. Since training programs are available throughout the state, this map can help you identify nearby options that fit your goals.
Jobs Requiring a Certificate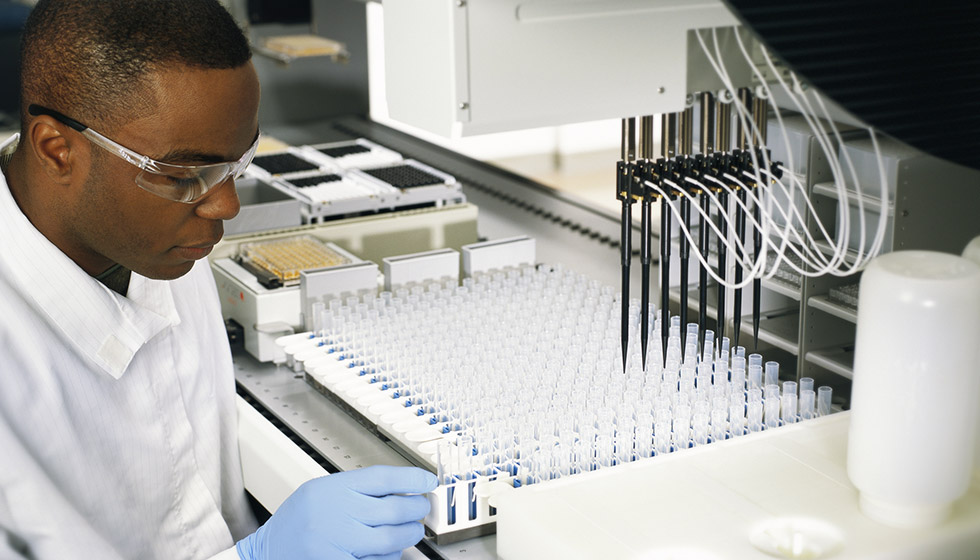 A specimen accessioner catalogs samples and specimens for review, then sends their findings to doctors or lab professionals for further research and analysis.
Read More
Header image photo credit: Seqirus